Save the Date!
The 26th Annual NC Serials Conference will be held March 31, 2017. We hope to see you there!
Thanks to you and our sponsors for making the 2016 conference a success.
Welcome to the 2016 NC Serials Conference!
It's our 25th North Carolina Serials Conference! Hosted by North Carolina Central University's School of Library and Information Sciences, the conference will be held on Monday, March 21, 2016 at the William and Ida Friday Center for Continuing Education in Chapel Hill, NC. We are again offering the popular one-day conference format and the even more popular low registration fee ($35; $15 for library school students).
Our 2016 conference theme is NC Serials Conference at 25: The Age of Discovery. We offer our users a rich array of physical and electronic resources. How do our communities gain access? How can we help in the discovery process? What tools have we found useful for managing our collections? How do we help users navigate our resources and connect to what they want and need in their research? How have we charted our course in the turbulent waters of serials and electronic resources? What is the engine for our future? Let's share our discoveries and best practices, explore innovations on the horizon, and participate in a day when ideas are generated and connections are made. Come celebrate our 25th year!



Christie Degener, Christine Fischer, and Christine Stachowicz
Co-chairs, NC Serials Conference Planning Committee
---
The North Carolina Serials Conference provides the opportunity for library professionals, staff, and students to share best practices and innovative ideas, hear from leaders in the field, meet with publishers and vendors, and explore trends, issues, and the future of continuing resources. We work with print and electronic resources, whether purchased, subscribed, or offered through demand-driven acquisitions programs. Those resources may be journals or other serials publications, e-books, data, or streaming media. Assessment based upon usage statistics, altmetrics, and other measures help inform our collection decisions, and we use a variety of tools to collect and analyze that data to address our budget challenges. Negotiating licensing terms, providing proper access through catalogs and discovery tools, marketing our resources and services, considering the end user experience, and providing staff training are areas of focus that demand our attention. This conference offers a chance for us to find solutions and look at new possibilities — join us in that conversation!
---
About the Friday Center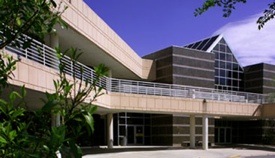 The conference will be held at The William and Ida Friday Center for Continuing Education. The Friday Center offers state-of-the-art teaching facilities in a comfortable and attractive environment conducive to learning. Services available at The Friday Center include a message desk at 919-962-3000, a gift shop, lounge areas, and a walking trail. Smoking is prohibited in the building and within 100 feet of the exterior. Parking at The Friday Center is free for program participants and public bus service is available. A map is available.
For more information, please contact Virginia Purefoy Jones or any other member of the Planning Committee.