Welcome to the 2013 NC Serials Conference!
Thank you for making the 2013 conference a success!
Join us on March 14, 2014 for the 23rd serials conference.

We'll see you there!

View previous years' conferences
The 22nd North Carolina Serials Conference, hosted by the North Carolina Central University's School of Library and Information Sciences, will be held Friday, March 15, 2013 at The William and Ida Friday Continuing Education Center in Chapel Hill, NC. The 2013 conference theme is "Collaboration, Community, and Connection." We are continuing the popular one-day conference format and the even more popular low registration fee ($35; $15 for students).
Many of us meet today's challenges by forming strategic partnerships, becoming more engaged with our users, and employing innovative tactics to convey the value of what we do. The planning committee promises this conference will be an opportunity to share and inspire creativity, collaboration, and new ways of thinking.
Please join us!
Christie Degener and Nancy Gibbs
Co-chairs, NC Serials Conference Planning Committee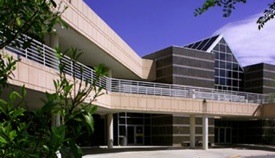 The program will be held at
The William and Ida Friday Center for Continuing Education
. The Friday Center offers state-of-the-art teaching facilities in a comfortable and attractive environment conducive to learning. Services available at The Friday Center include a message desk at 919-962-3000, a gift shop, lounge areas, and a walking trail. Smoking is prohibited in the building and within 100 feet of the exterior. Parking at The Friday Center is free for program participants and public bus service is available. A
map
is available.
For more information, please contact Virginia Purefoy Jones or any other member of the Planning Committee.